Print
KANT-STUDIEN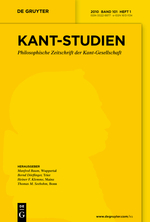 Philosophische Zeitschrift der Kant-Gesellschaft
Founded by Hans Vaihinger
Newly founded by Paul Menzer und Gottfried Martin. History
Edited by Manfred Baum, Bernd Dörflinger and Heiner F. Klemme.
The monograph series Kantstudien-Ergänzungshefte (Supplements to the Kant Studies) is being edited by the Editorial Office and the Editors of the Kant-Studien.
Aims and Scope
Publications in the KANT-STUDIEN have a dual focus: firstly contributions to the interpretation, history and editorial questions of Kant's philosophy, and secondly systematic debates on transcendental philosophy. In addition, there are investigations on Kant's precursors and on the effects of his philosophy. The journal also contains a documentation section, in which the current state of research is indicated by means of a continually updated bibliography with reviews and references. (See Kant Bibliography, Kant bibliography service)
Abstracting/Indexing
Abstracts appear in / are indexed in: Arts and Humanities Citation Index – Current Contents Arts and Humanities – Dietrich's Index philosophicus – IBR- Internationale Bibliographie der Rezensionen geistes- und sozialwissenschaftlicher Zeitschriftenliteratur / IBZ-Internationale Bibliographie geistes- und sozialwissenschaftlicher Zeitschriftenliteratur – Humanities International Complete – Répertoire bibliographique de la philosophie – The Philosopher's Index
Further information
KANT-STUDIEN is published as one volume of four issues per year with approx. 600 pages. Berlin, New York: Walter de Gruyter.
ISSN (Print): 0022-8877, ISSN (Online): 1613-1134
Annual Subscription rate
Online: € 149.00
Print: € 234.00
Print + Online: € 281.00
Single Issue: € 64.00
Please contact your local bookseller or the publisher directly (Walter de Gruyter GmbH & Co KG; P.O. Box 303421, 10728 Berlin, Germany)
Membership price for members of the Kant Gesellschaft receive a 20% discount. For orders placed in North America. Proof of membership (copy of membership card) should be provided at time of subscription.
Address
Kant-Forschungsstelle Universität Mainz
Colonel-Kleinmann-Weg 2
55128 Mainz
Germany
Editorial office
Dr. Margit Ruffing, M.A.
Fon +49 6131 39-25523
Fax +49 6131 39-25593
kant[at]uni-mainz.de